Kid Halloween Craft Blocks
I am a member of the Collective Bias® Social Fabric® Community. This content has been compensated as part of a social shopper amplification for Collective Bias and its advertiser. #ThinkOutsideTheWipe #CollectiveBias
Guys! It is almost October, which means give me all the Halloween fun! I remember as a kid making all sorts of holiday themed crafts with my friends. Our mothers must have been crazy to let us loose with paint. I have such a hard time letting my little Miss JJ get to messy, but I'm trying to let go of my anti-mess tendencies and let her have some fun with these adorable Halloween kid craft blocks. Thanks to these new Huggies® Cleansing® Wipes I don't have to worry so much.
On our last trip to Sam's Club, we noticed these awesome Huggies Cleansing Wipes. For some reason Miss JJ loves Sam's Club. It's probably the samples or cookies from the bakery. I love it because they make things so easy. Have you tried Scan and Go. By the time we are done shopping, It is time to go! Using the Sam's Club app you can scan items as you put them in your cart making check out a breeze and so fast. Win for Mom. Oh and throw a soft pack in your purse for all those times when you need to wipe away germs, messes and more! Oh and don't worry they are hypoallergenic.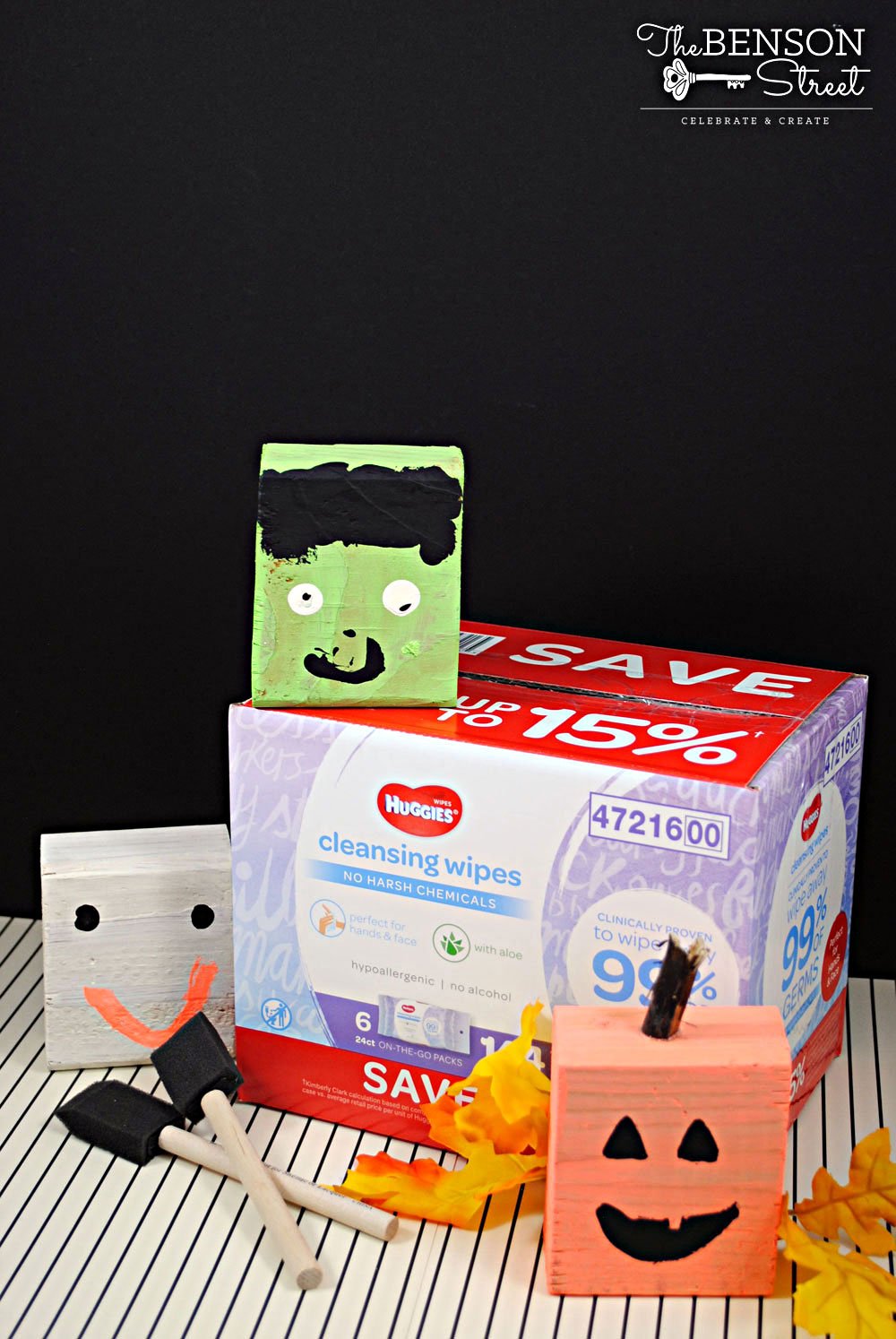 Interested in using Huggies® Cleansing® Wipes in your next creative adventure? Hover over the photo to click through to Samsclub.com and buy them!
Let's get started making these cute blocks!
Supplies
Scrap wood blocks
Acrylic paint
Foam paint brushes
Paper Towels and Huggies Cleansing Wipes
How to make Halloween Kid Craft Blocks
Decide which kind you want to make. We made Jack-o-Lanterns, Frankensteins, and Ghosts.
Paint the blocks the base color and let dry.
Paint faces. Give direction but let kids have fun and do it themselves. We used the ends of paint brushes for eyes and then a smaller paint brush for mouths. Allow to dry.
For the pumpkin find a small stick outside and glue it to the top of the pumpkin block.
We use cute little smocks to protect our clothes while painting.
Grab a Huggies Cleansing Wipe to remove the paint from hands easily. So easily that the kids an do it themselves.
Check out those clean hands, ma!
Here are our finished products. The ghost can be scary or happy. We decided to do a happy orange face. It would be pretty easy to create a squiggle angry mouth too.
The pumpkin can be just a simple pumpkin by leaving the block just painted orange. Or get creative with shapes to make a jack-o-lantern. The stem is a fun activity too! Send the little ones out in the yard to find the perfect stem for their halloween pumpkin kid craft block.
Frankenstein is a little bit harder, but not much. Simply paint the block green. Add some black hair, eyes, a nose and mouth. If you want to add a special touch screw two blots into his neck or add a purple bow tie.
Don't forget to write your child's name and date on the bottoms so you can remember when they made these! So fun for years to come!
More Halloween Projects: